Ski-Orienteering: Latest News
45 Flower St, Fairfield, New Zealand Phone (03) 488 3254
The Snow has Arrived! 8 Jul 11
Tonight's news will gladden the hearts of ski-orienteers: snow has fallen on the southern ski-fields, allowing the running of the annual Ski-O at the Snow Farm, Cardrona on 23/24 July. This year Joe Sheriff and Julie Grant are planning a sprint distance on Saturday afternoon and a 90-minute score event on the Sunday. More...
NZ Flag Flies at World Champs, 15 Mar 11
Chris Forne and Emily Wall who currently live in Norway will represent New Zealand at the World Ski-O Champs next week. There will be sprint, middle and long individual races, a regular relay, and a mixed sprint relay in which two skiers alternately do three 10min legs. Another interesting feature: touch-free punching by Emit, which is Sport Ident's main rival. The events start on Tuesday.
Masters and Junior World Champs, 24 Nov 10
As well as World Championships, Ski-Orienteering has World Junior and World Masters Champs. Both competitions are being held together with the European Champs in Norway in early Feb. The full World Championship will be in Sweden in March. Links to these events are on the IOF website. Anyone wishing to represent NZ in the open or junior champs should contact the NZOF selectors, but the Masters Championship is open and there will be a wide span of ability.
Electronic Punching Hits the Slopes, 30 Jul 10
Electronic punching enabled planner Brian Buschl to set more varied courses at the Ski-O this year. John-Paul Lilburne and Jim Cotter shared the honours, with J-P winning in the fixed-order event and Jim getting all but one control to prevail in the score. Results have been posted.
Second Snogaine at Waiorau, 10 Jun 10
This year's Ski-O at the Waiorau Snow Farm will consist of a mass start fixed order course on Sat 24 July, followed by a 2-hour score event - a snogaine - on the Sunday. More details will appear on the calendar, and on the Dunedin OC website.
Matt and Lara Win Snogaine, 18 Aug 09
Matt Scott and Lara Prince have won NZ's first "Snogaine" - a rogaine on skis. We stand to be corrected, but we don't think there has been a team score event, on skis, of at least 3hrs before! Results have been posted. More...
Cancel That: Ski-O On, 13 Jul 09
There will be ski-orienteering after all - or rather ski-rogaining! Thanks to John-Paul Lilburne of Christchurch, a 3-hour "Snogaine" for teams of 2-5 will take place at Waiorau on Sat 25 July. There will be a biathlon on the Sunday. Entry form...
No Ski-O This Year, 25 Jun 09
The Ski-O which has been held by Dunedin OC most years since 1991 won't run (or glide) this year. The club is running the National Orienteering Champs in 2010, and as a rehearsal the South Island Champs at Labour Weekend 2009. It has decided to prioritise its resources.
Fagereng Turns the Tables, 25 Jun 09
Matt Scott won the Saturday sprint event, but Ake Fagerang triumphed in the long distance next day. Jana Nyklova was the fastest woman both times. Results have been posted.
Temporary Calendar Outage, 27 May 08, updated 30 May
The calendar we use has moved hosts and there were some complications. It still seems to be very slow, and sometimes produces a screen with "sorry an error has occurred." Going back and trying the link again sometimes works, or asking for the complete NZ calendar via this link. The Maptalk forum, news and photos may be affected by the same issues.
Biathlon Orienteering at Waiorau, 27 May 08, form updated 3 Jun
Details are now available for the annual ski-orienteering weekend at Waiorau Snow Farm, near Wanaka. The Saturday event will be a biathlon, combining orienteering and shooting. Sunday's event will be a 90-minute score orienteering event. Download here.
New Ski-O Champions, 30 Jul 07
Matt Scott and Lara Prince won the National Ski-O event at Waiorau Snow Farm last weekend; Matt passing Ake Fagereng on bonus points! He also won the sprint prologue, but in the shorter race Karen Messenger was the fastest woman. There were strong veteran and junior fields too. Results...
Calendar Changover, 30 Jul 07
We've been running two MTBO calendars for several months. The "new" one has passed its tests and the old one has been retired. The new calendar uses "Maptalk/Events" which covers the whole range of map-sport in NZ, though the we link to it in such a way as to show only Ski-O. You can click on through to see other map-sport events. If you are a Ski-O organiser you can post the details yourself - see the help.
New Branch of Orienteering, 13 Dec 06
Richard English (PAPO) recently devised what may be the world's first downhill ski-orienteering event, to provide a fun challenge for those with fixed heel bindings. The formula provides all the excitement of downhill skiing plus the strategic route-planning challenge of a rogaine. More...
New SkiO Calendar, 4 Oct 06
We're trialling a new Ski-O calendar. Potentially it will deliver better information because event organisers can enter and update the info directly. Click on the "New" calendar link to the left. The same facilities can be used for all NZ map-sport, if you want to see the big picture, try http://www.maptalk.co.nz/events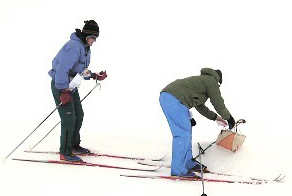 Ski-O Continues to Snowball, 6 Aug 06
Sorry about the pun, but 97 people is a new record on top of increasing numbers in 2004 and 2005! Antoine Arcand and Carolyn Daubney won the open classes. Dunedin OC president Myles Thayer describes the event along with the results.
Ski-O Introduces Sprint Prologue, 22 May 06
The 2006 Ski-Orienteering Champs on 29-30 July will include a sprint event on the Saturday with a score on the Sunday - both at Waiorau as usual. The sprint distance in foot-o is usually about 15min for the winner. Download the info. Entries close on 10 July.
Patchy Snow but Record Entry, 11 Aug 05



73 skiers took part in the 2005 Ski-O Championships at the Snowfarm Wanaka, up on last year's record. The point to point courses were run in overcast but warm conditions with patchy snow cover. The mens race was a very close affair, Aaron Prince passing Antonie Arcand with 600m to go, when the American Dunedinite misread the map and had to climb over 2 extra fences. The margin was a mere 6 seconds. Only 4 minutes behind came a flying Sara Wallen, comfortably ahead of the other women. Results have been posted. Photos...
Ski-O Alive and Well at Waiorau, 1 Jun 05
Allan and Annie Grant keep the orienteering flag flying at Waiorau Snow Farm with the 2005 NZ Championship on Sunday 31 July. There will be a warmup event with coaching available on the Saturday. According to our calculations this will be the 15th ski-o weekend held at Waiorau (see below...) Download the info and entry form. Normal entries close on 15 July but late entries will be accepted.
Fifteen years of Ski-Orienteering, 1 Jun 05
Pioneer Ken Dowling now living in Victoria has provided us with some recollections of the background to the first Ski-O in NZ in 1991. Anyone else with long memories is welcome to The list of events is not so large, it may be possible to collect every set of results as has been done for rogaining, which started in the same year:-))
What about MTBO Chris? 26 Jul 04



Chris Forne showed what a great all-round orienteer he is in the snow at Waiorau Snow Farm on Sunday. The top foot-orienteer and rogainer beat the the best of the rest in the annual ski-orienteering event by a whopping 160 points! Penny Kane, like Forne a national orienteering squad member from Christchurch, was the top woman. The entry of 68 was over half as much again as last year and the highest since this website began in 2000. The event has been running for at least 15 years. Results have been posted.
Once-A-Year Chance to Orienteer on Skis, 22 Jun 04
Allan and Annie Grant announce the NZ Ski-O Champs for 2004 at the Waiorau Snowfarm. The event on 25 July will be in a score format, with a practice event and coaching available the day before. Download the info and entry form. Normal entries close on 10 July but late entries will be accepted.
NZ Represented at World Ski-Orienteering Champs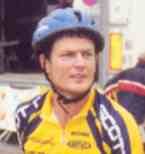 NZ will be represented at the World Ski-Orienteering Champs for the first time in Sweden this month. Alistair Landels, Michal Glowacki and Greg Barbour will contest the sprint and the relay. Barbour who with Australian Dave Rowland is the current World Rogaining champion, has also represented New Zealand in foot-orienteering and MTB-orienteering. The events take place at Asarna and Ostersund between 11 and 15 Feb and the website is at www.asarna.com/skiwoc2004
Prince Wins Again, 31 Jul 03

Lara Prince won the womens long course at the annual Waiorau Ski-Orienteering event for the second year in a row, She was 70 points ahead of Swede Asa Pahlen and only 40 points short of the top man Tomas Ehler. In fact her score of 295 equalled the top male without a foreign-sounding name, third-placed David Grant. Results have been posted. Further comment on Maptalk.
Ski-O On Again at Waiorau, 12 Jun 03
Annie and Alan Grant have again organised a Ski-Orienteering competition at Waiorau Snow Farm, with a warmup/practice the day before. Read their flyer.
Cory-Wright and Prince Win at Waiorau, 5 Sep 02
In a score format this year, Alistair Cory-Wright and last year's winner Ernie Maluschnig tied on points, with Cory-Wright declared the winner on time. Lara Prince, fresh from the Junior World Champs on the sunny shores of Spain, won the womens category in spite of a 10-point lateness penalty. Results have been posted.
Ski-O Weekend Scheduled for 2002, 12 May 02
Ski-orienteering is on again at Waiorau Snow Farm: this year on 27/28 July. A warmup and coaching are offered on the Saturday, with a score event (long or short) on Sunday starting at 12:00. More...
GPS Used to produce Ski-O Map, 16 Aug 01
Colin Hope used a GPS to survey the trail at the Waiorau Snowfarm for this year's Ski-orienteering event. Ernie Maluschnig, beaten last year by a Swedish import, triumphed in difficult conditions. More...
Ski-O Weekend Scheduled for 2001, 15 Mar 01
This year's ski-orienteering at Waiorau Snow Farm has been scheduled - it's on July 28/29. The planners are Franny Cunninghame and Julie Grant, with controller Nick Church. Enquiries to Ph 03 441 4447.

Changes to Ski-O Website, 22 Sep 00
We've introduced some changes to the shape of the website. As with any software, "bugs" are possible, please contact if you have any difficulty.
Swedes Dominate NZ Ski-O Champs, 9 Sep 00
The experience of overseas skiers Sara Wallen and Peter Andersson clearly showed up in the NZ Championship at Waiorau Snow Farm on July 30. Andersson top-scored with 395, while Wallen carded a solid 285, ahead of all but 5 of the men.
More...
Ski-O Mapping Standards Published, 12 May 00
The latest edition of the "International Specifications for Orienteering Maps" (ISOM2000) contains a section for Ski-O maps for the first time.
More...
Ski-O Planned for 30 July, installed 5 May 00
The NZ Ski-Orienteering Champs are planned for the 29-30th July, at the Waiorau Snow Farm near Wanaka.
More...
---
TOP