---
I RECOMMEND...
The topo map has a grid on it. It's called "NZMG" - New Zealand Map Grid. (*Or NZTM - see below.) If everything is related to NZMG, then the errors will be contained - they won't build up as you expand on a shaky foundation. What's more, there are free photos on the internet which align EXACTLY to the NZMG. They are a bit coarse, but roads are easily seen on them. The important thing about them is that they are "orthophotos" - the various distortions from camera angle and height, and high/low parts of the ground, have been removed.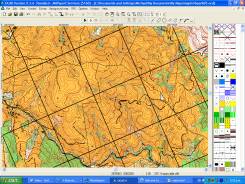 So by relating the orienteering map coordinates to NZMG you can create a framework that is as exact as you can trace the roads off the photo. (The roads on the topo map are a bit too generalised for us.) Basemaps from whatever source can then be located in the correct position. Photos from other sources can be located in the correct position. If they are distorted as they usually are, you can scan and fit them in sections, to keep the errors within bounds.
And enter the GPS. A point in NZMG coordinates can be put exactly on the map. I've been plotting geocache sites on my maps, and using them to find the caches! And enter Google Earth. Free 2-year-old photos for many parts of NZ. There are fish-hooks, suffice it to say that you need a good framework to fit downloaded photos to.
There's a bit of geometrical head-scratching to arrive at the best relationship between map and NZMG coordinates. And whether to adopt the NEW NZ grid system called NZTM. But once that's done you'll be able to switch with a couple of mouse-clicks between one and the other. And bring up the exactly-positioned orthophotos. I would be happy to set up your OCAD file for you. Best done before drawing starts. Can also be done for existing files, but be prepared for it to show up any distortion. Or perhaps whether your north is correct!!
* NZ has now adopted NZTM - the NZ Transverse Mercator grid. The principle remains exactly the same, and we can help you move from one to the other.
ANTICIPATE THE FUTURE...
The future of orienteering includes "competitor-tracking" enabling dots representing runners to be displayed on a map or a terrain perspective. Ideally this happens in real time for spectators, but it takes a world championship to justify the electronic devices. More practical is post-race display on the internet. The position data for this may be in "real-world" coordinates. So how will it relate to the map unless the map is accurately tied in??
Yours in orienteering,
5 Atahu Grove, Lower Hutt, NZ.
Phone +64-4-566 2645, or feel free to contact me at Major Events.